Motivational Interviewing (MI) With Virtual Human Role-Player Jack Grant
Designed to Supplement Classroom Training & to Support Practicing Clinicians
$89 for Annual User License (group discounts available)
Purchase Here
Practice MI with Jack Grant
In every clinical session, virtual role-player Jack Grant will be different and will reveal diverse aspects of his concerns and interests. Regardless of Jack's values or his level of commitment to using cocaine, he will seriously consider giving it up if you use proper MI techniques.
Each conversation with Jack is designed to replicate real experiences both in Jack's behavior and the length of time it takes him to decide what he wants to do. One difference between a virtual encounter and a real one is that with the virtual one, users receive ongoing feedback and a summary score so they can learn from their experiences.
Why this training is valuable
Applying Motivational Interviewing skillfully during a clinical session requires practice and can take time to develop, putting clients at risk. Experiential training with role-plays will not just teach the motivational interviewing principle but will accelerate vital skill building without risks to clients.
A realistic virtual experience and on-going feedback are the keys to building the skills needed to be successful during clinical sessions. Jack, a virtual role-player, will have many ways to respond to what you say to him. His choices depend on what you have already said, how he feels about you, his varying personalities, and a random selection. This training Is used in university courses and by clinicians to both develop and sharpen their skills.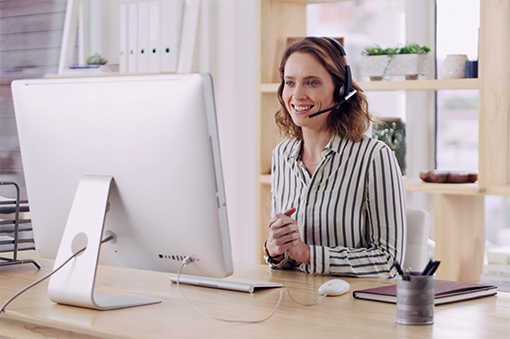 SIMmersion's PeopleSim® Technology
This training system was created using the PeopleSim® technology, a SIMmersion proprietary technology used for a variety of applications. For this practice system, each user statement typically has from 7 to 15 responses. To choose the response given by Jack, the PeopleSim technology calculates probabilities for each of the possible responses based on current conditions, and then uses the probabilities to select a response. The probability calculations are based on one of Jack's different randomly selected personalities and on the relationship the user has developed with him during the conversation.
Jack starts each session with a cautious frame of mind. Everything the user says is rated according to the impact it has on the relationship with him, thus as the conversation proceeds, the relationship will evolve. Click here to read more about SIMmersion's PeopleSim Technology.