Our Process of Building Virtual Human Role-Players
Refined over 21 years, SIMmersion follows a rigorous and iterative development process, while constantly incorporating stakeholder feedback, to ensure efficient and high-quality training system delivery.
Collaborative Design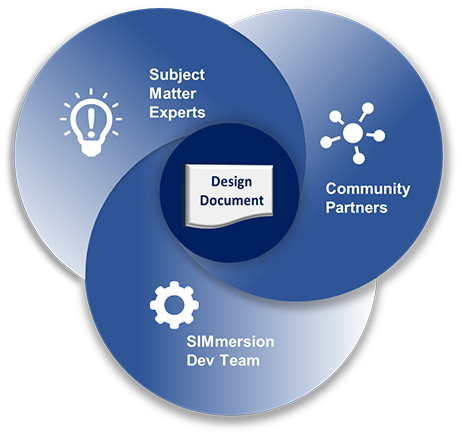 Our organization employs a collaborative approach to design, emphasizing active participation and engagement of all stakeholders, including community members and subject matter experts, throughout the entire process. Through close collaboration with these stakeholders, the SIMmersion team works collectively to identify the learning objectives, define the training scenario, develop the virtual role player's history and personal characteristics, and create the emotional states necessary to develop an experiential learning experience that will produce the desired training outcomes. The culmination of these efforts is a comprehensive Design Document that serves as a detailed roadmap for the subsequent development of the training system. This Design Document is a living document that we continually update to reflect changes in design as the project evolves.
Development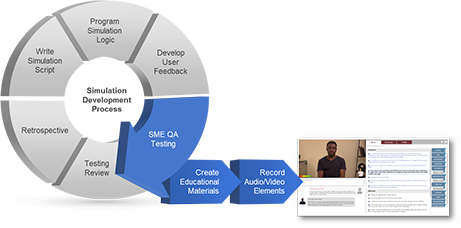 Guided by the Design Document, our team undertakes the development of the training system by iteratively crafting the simulation script, programming the simulation logic, and constructing the user feedback system using our proprietary authoring software tools. Throughout this development phase, we maintain regular and open lines of communication with stakeholders, ensuring their involvement and input at every crucial stage. To facilitate this collaborative process, we employ a Continuous Feedback Methodology (CFM), enabling stakeholders to test and provide feedback on training scenarios as we progressively add content between major milestones. This CFM approach not only optimizes resource management but also allows us to incorporate valuable lessons learned and adapt to evolving strategies and priorities. Moreover, it enables us to promptly identify and rectify any flaws detected early in the process. Upon the completion of scripting, our team of Audio/Visual experts record the audio and video elements of the training system.
Delivery

Once the training system is completed, it is deployed using industry standard protocols. Systems can be deployed on SIMmersion's custom Learning Management System (LMS), integrated into our client's existing LMS using SIMmersion's existing API framework, or delivered as a SCORM compliant installable. Our team works closely with the client to ensure a seamless transition, providing comprehensive training sessions to familiarize users with the software's functionalities and offering ongoing second-tier technical support to address any queries or challenges that may arise.
Monitoring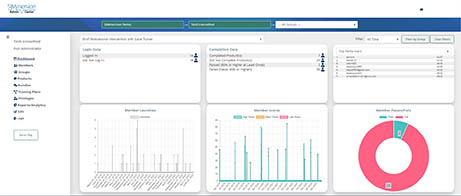 Our Administration Center enables account management and provides reporting and analytics tools to deliver valuable insights into usage statistics. Through detailed reporting, customers gain a deep understanding of how the software is being utilized, and extract meaningful trends, patterns, and key performance indicators from the data generated by the application. These analytics provide valuable information to assist in making data-driven decisions to enhance training efficiency and effectiveness. Additionally, our account managers work closely with customers to identify opportunities for growth, provide training and educational resources, and facilitate seamless upgrades or enhancements.
By fostering a strong and collaborative partnership, we strive to exceed our customers' expectations and contribute to their long-term success.